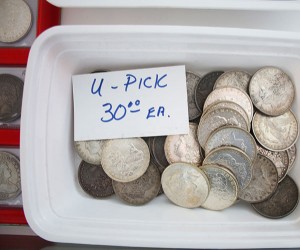 Discover a Coin Collector's Paradise
Our roots in coin-collecting run four decades deep. Store owner Jerry Hermanson has had the fever for it since he was a kid. And his passion and knowledge for the business are evident in the quality of inventory we carry.
A PCGS certified dealer
Capital City Coins and Jewelry is an authorized Professional Coin Grading Service (PCGS) dealer. We offer:
proof sets
certified collectible coins
National Bank Notes
other paper currency
bullion
Grow your collection
Looking for a particular item to add to your own collection? Come see us. We regularly attend shows and have our eyes out for items we know are a catch.
Our coin and Bank Notes collection is truly unique and always changing. Come see it today!